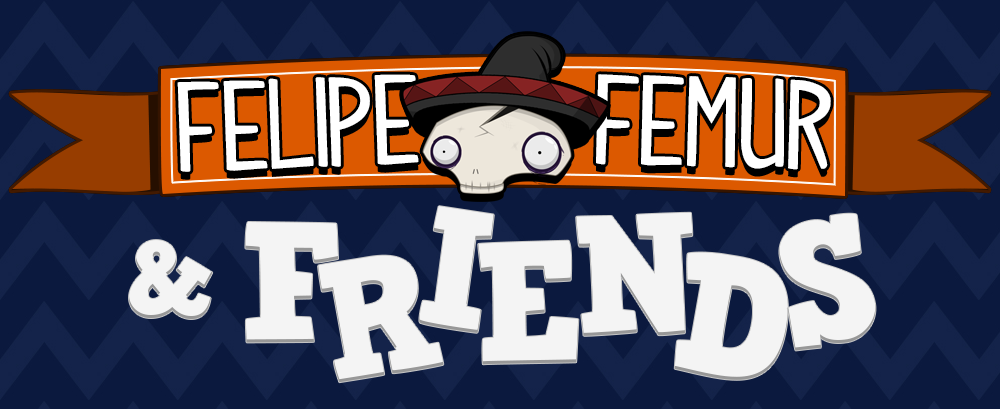 Felipe Femur & Friends
---
Trailer
---
Unearth amusing new friends, activities, and games in the Felipe Femur & Friends Halloween town game. Learn about Felipe Femur the friendly skeleton, Gummy the toothless werewolf, Sunny the sun-loving vampire, and many more interesting characters. Take a look around the spooky neighborhood to find Felipe Femur's closet home, an eerie swamp hut, a witch's grotto, and so much more. By visiting each character's home, you can get to know the characters through fun dialogue options, play games hosted by each monster, and discover fun crafts and food to make. Visit anytime you'd like!
Play mini games including Wesley's money grab machine, Sunny's beach cleanup, Oscar's hidden object, Gilli & Tate's duck float race, Felipe's maraca rhythm game, and many more. Discover fun and easy to do crafts, read original scary stories, talk to the characters, and find access to many more free games and activities including coloring sheets, word searches, and delicious recipes. Plus you'll get an early glimpse into new things happening on the Felipe Femur website via the cat mayor's billboard.
The Felipe Femur & Friends (Halloween Town) game offers users of all ages a glimpse into Felipe Femur the Skeleton's spooky neighborhood, circle of friends, house, and even his noggin. The app serves as a meet-and-greet for several characters where you can learn all about them, and as a link hub to several mini games, crafts, stories, and other fun activities on the related website: www.felipefemur.com.
HOW TO PLAY: Let the game load to find Felipe Femur's spooky yet friendly neighborhood . Click each ironic monster (toothless werewolf, sun-loving vampire, land-loving swamp creature, etc.) to pull up a dialogue window where you can chat with the character. Click on a character's house to bring up a brief bio, a mini game, links to recipes, crafts, coloring sheets, word searches, as well as links to other free games. Enjoy and come back anytime! Updates to come.
Also available on